My rating: 4 of 5 stars
I love Tana French's Dublin Murder Squad books and this one is no disappointment. If you're unfamiliar with the series, the Dublin Murder Squad series follows different detectives investigating murders, the lead characters vary but will often have had more minor parts in earlier books. The relationships between the squad are very much the focus of the series, with the actual murders, in a way, being a more minor thing, although still a key part of the story. In this one, Conway and Moran, the token woman and the newbie, respectively, investigate a 'slam dunk domestic', saddled with golden boy Breslin, to keep an eye on them, so they don't muck up. The crime doesn't appear as simple as it seems, yet Breslin is keen for the pair to charge the obvious suspect, which raises questions as to exactly why? There's a lot about some extreme workplace sexism and how people can control you if they can control your story, there's also some extremely well written interview scenes.
The Wych Elm: The Sunday Times bestseller by Tana French
My rating: 4 of 5 stars
The Wych Elm is a stand-alone story from Tana French, the main character is Toby, who has gone through life with a giant streak of good luck when it all goes wrong when he is badly assaulted during a burglary. Toby goes to recover / help out, at his uncle's house, a glorious old house full of childhood memories of his and his two cousins. The uncle is terminally ill with only a few months left. Things get even worse then, when a skull is found in his garden. It's about how our actions shape our lives and the lives of those around us, how sometimes all we see is the surface, not what's going on underneath and how you can spend your whole life thinking your family has got your back and they don't necessarily do. As with all Tana French books, I really enjoyed this one.
My rating: 4 of 5 stars
Ruin Beach is the second in the DI Ben Kitto series, set in the Scilly Isles. In this one, the body of a diver is found tied to the mouth of a cave. There's ship wrecks, sunken treasure and more gorgeous scenery.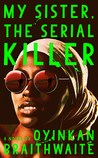 My Sister, the Serial Killer by Oyinkan Braithwaite
My rating: 3 of 5 stars
My Sister, The Serial Killer is a story about two Nigerian sisters, the younger of whom keeps killing her boyfriends in 'self defence'. The older sister helps with the clean up but her urge to protect her sister comes into conflict when they both like the same man. I liked it, it was certainly different but it didn't have me particularly hooked.
My rating: 3 of 5 stars
I'm always on the lookout for a new crime series to get my teeth into, particularly if it's set in an interesting part of the country and Raven Black, the first book in the Shetland series, sounded like it would fit the bill. And it was okay, it was about a murder of a teenage girl, an obvious old man on the hill suspect, island life, detective with a troubled past etc etc but I don't think I'll be continuing with the series. There's already a lot of books in the Shetland series, so if I were going to commit it would have to be something I was absolutely looking for but the first book fell down on a couple of points for me; I like the location of my crime series to be almost another character in the story, with a very firm sense of place, Raven Black did not do that for me, I got that it's islands, hilly, cold and outside the main town, there's often only a few houses around but I wasn't picturing myself there as much as I've pictured myself on the streets of Edinburgh, Dublin or the Scilly Isles. The other thing is that I like to have a strong sense of the relationships between the officers on the case, that was missing too, it concentrated more on other 'civilian' characters, which is not what I'm personally looking for in a crime story.
The Devil Aspect by Craig Russell
My rating: 3 of 5 stars
Set in Czechoslovakia before the war, in a foreboding castle set on the rumoured mouth to Hell, which is now an asylum for the Devil's Six, the six most dangerous people in Central Europe. Viktor is a young psychiatrist at the castle, researching a theory that madness is caused by 'The Devil Aspect', meanwhile in nearby Prague, a serial killer is aping the crimes of Jack the Ripper. This book seems to be primarily a lot of set up, it was fairly interesting set up but hard to properly get in to, waiting for something to happen to the main characters.