My rating: 3 of 5 stars
Vox was …. okay, I didn't really gel with the main character and particularly in one scene when she discovers something but only realises what she's discovered chapters later …. this woman was meant to be a scientist and the discovery was pretty obvious, it just felt jarring that she didn't realise straight away. Anyway, Vox is in the mould of Handmaid's Tale, a far right Christian group takes over America and silence women, only allowing them to speak 100 words a day. You can sort of see how if unchecked, that sort of misogyny can spread and escalate and the book's message of protest now, whilst you can, strikes true.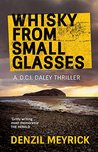 Whisky from Small Glasses by Denzil Meyrick
My rating: 3 of 5 stars
I picked up this book as the series was recommended for fans of Stuart MacBride and I quite fancied a new Scottish detective series to get into. Whiskey From Small Glasses is set in the remote coastal town of Kinloch, a body is found on the coastline and a police team from Glasgow is dispatched to investigate. There's drugs, prostitution, struggling marriages, dramatically bad Scottish weather etc. I enjoyed it, although I guessed who the murderer was quite early and some of the other stuff was pretty obvious too. There was some dark humour and although there were some gruesome scenes, it wasn't all out torture porn, like some crime novels (always a put off). Although not quite up to the giant standards of MacBride, I think this will probably be an enjoyable series and I've already downloaded the next.
The Last Witness by Denzil Meyrick
My rating: 4 of 5 stars
The Last Witness is the second in the DCI Daley series and it's already really hit its stride. As well as the main story, a gang land boss resurrected from the grave, out for revenge against the people who had put him away, there's some very satisfying continuing back stories going on, such as DCI Daley's relationship with his wife and the increasingly crooked back story of Daley's boss. But back to the main story, it kept me gripped and I couldn't put the (audio)book down, as I wanted to know what happened next and there were plenty of twists that I didn't see coming.
Dark Suits and Sad Songs by Denzil Meyrick
My rating: 3 of 5 stars
Dark Suits and Sad Songs is the third in the DCI Daley series. It continues on with the theme of Eastern European mafia but in a refreshingly sensitive way (as in the bad guys have, in their own way, reason for being bad guys). There's also a gruesome suicide, some gruesome murders, police and political corruption and the possibility of aliens. I liked this but not quite as much as I liked book 2.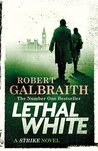 Lethal White by Robert Galbraith
My rating: 5 of 5 stars
I really liked this book, the fourth in the Strike series, I think that it just gets better and better. In this one, a disturbed man tells Strike that he saw someone getting strangled as a child, Strike and Robin get drawn into the case, there's politicians, radical leftists and the usual rich people who never come across particularly as likable in a Strike book. The mystery was satisfying and not obvious to work out but really it was a sideshow to the real meat of the book about the relationships between Robin and Strike, Strike and his girlfriend, Robin and her husband, the lead leftist and his girlfriend, the disturbed man and his brother, the politician and his family. I thought that Rowling/Galbraith did a really good job at tackling mental health issues and looking after yourself, in this installment too.
The Rat Stone Serenade by Denzil Meyrick
My rating: 3 of 5 stars
The Rat Stone Serenade is the fourth in the DCI Daley series, it was entertaining enough, I do have a soft spot for the reoccurring characters and a massive soft spot for the location (I think that my reading choices are suggesting that I need a holiday in rural Scotland) but in this one, where a powerfully rich family spend Hogmanay having an AGM in a remote cliff top house, the body count is OTT, gruesome and more akin to a horror movie than a crime thriller. Okay, murderous druids are involved but sigh, I don't know, I don't exactly read books for realism but the constant "really?", as yet another body was found, was taking me out of the story.
The Psychology of Time Travel by Kate Mascarenhas
My rating: 2 of 5 stars
I suspect that one of the reasons why I am giving this 2 stars is because I wanted to love this book and I couldn't, it had everything going for it; time travel, kick ass female scientists and even embroidery (I love the embroidered cover, it also minorly features in the plot) but I just couldn't get into it and because I couldn't get into it, I wasn't picking it up very often, so the large cast all seemed to merge into one. But it's certainly a novel story and an inventive murder mystery.